Earlier in the afternoon, I went over to one of my bimbo sister, Gera's house for art jamming. She picked up painting as a hobby a while back and would every now and then be searching for like-minded friends to paint with her. Unfortunately, not many people are into painting.
I, on the other hand, had wanted to sign up for those few-day courses at one of those art schools or to sign up for those tea-time social painting. It so happened that one fine day, we were sharing about painting as a hobby and found each other as company for painting sessions. It was a win-win situation. She would guide me the basics of acrylic painting and I would be her impetus to finish her painting. It is always more fun when you paint with someone.
This was the painting which she had put on hold for more than half a year. I could already see the beauty in its incomplete state.
I started my artwork by doing a rough sketch on the canvas with a wooden pencil. I did not exactly know what I have in mind. One thing for sure, I knew I wanted to paint a tree, an intriguing tree with a whimsical feel and that was about it.
We worked mainly with primary colours and mixed to get shades of brown, red, pink, peach, beige, green and so on.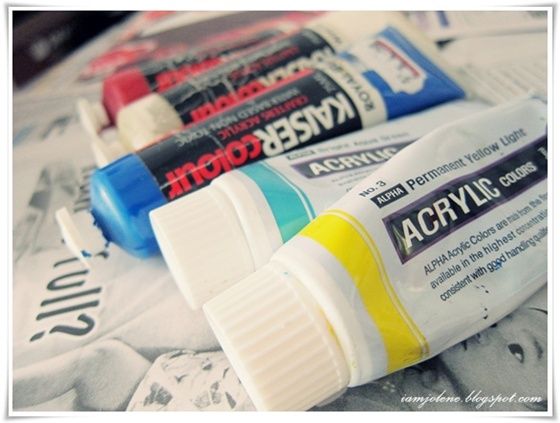 Our steady progress
And finally, us with our masterpiece!
I really LURVE Gera's painting! I love the gradient of grey on the crane's wings which you can't really see from the photo as the light was shining overhead. I also love the swirls of colours on the flowers.
Here is my amateurish painting. It isn't what I have envisioned (no intriguing tree, no whimsical feel). However, I'm still proud of myself as this is my first attempt at acrylic painting on canvas.
After painting and having our dinner, we chilled around in her room. Being my primary school friend, I've known Gera for almost 20 years and I always feel like I'm frozen in time whenever I look at some of the stuff in and around her room. I could see objects from primary and secondary school days amidst more contemporary items.
Interpretation and feedback
I think it would be cool to name my art piece and I'm still coming up with some titles. Some of my friends asked for the interpretation of this painting (significance of balloon, that mysterious little white thing etc). It is open for interpretation and instead of providing my description here, I would love to hear what you have to say. Any positive or negative feedback is welcome too!