We lived like pigs at
Angsana Resorts and Spa
. The sevice there is 6-star. After only two day's stay there, I find the service in Singapore CMI.
We spent the whole time eating, drinking, playing, sleeping and be merry.
For this entry, settings are such that photos would be enlarged if you click on it. ;P
The journey…
Our suite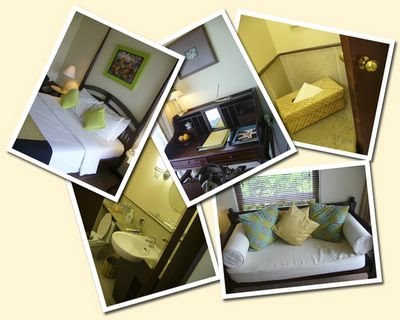 While the hotel stay itself was affordable (free extra day stay thrown in), we spent a bomb on food and leisure.
Check out the mouthwatering dishes! 5 star for food.
There weren't many places to eat in the resort itself except for these places.
Every meal was gratifying and heavenly.
For free leisure activities, we basked in the sun, lazed in the pool, and sipped ice cold drinks by the beach.
For paid leisure activities, we went jet skiing, snorkelling and atv riding.
Jet skiing was WAAAY FUUUN! And unlike in Singapore, a license isn't required to ride a jet ski. I was pillion during the first half of the ride. Then kh suggested that I try my hands at being the rider and the feeling was simply awesome! Now I can boast to my sister that I rode a jet ski. Hehe…
I attempted snorkelling for the first time. I consider it a mean feat, as those of you who know me well enough know my fear for water. I was so glad I tried it, for that few moments, I forgot my fear for water. I was gleefully marvelling at the underwater world, sometimes stretching out my arms to touch the quick little fishes. But after a while, as the water started seeping into my tube and mask, my fear crept in bit by bit. I had to keep blowing water out of my tube and coming out to the surface to release the water. I was also most afraid of pulling kh down too as he wasn't wearing any life vest. Silly fears…
Anyway, we didn't manage to capture shots of us jet skiing and snorkelling as duh, I didn't wanna risk my camera dropping into the abyss of the South China Sea. Instead we borrowed the snorkelling gears the next day just to take photos. Haha… Too bad the jet skis were out that morning and we had no chance to take a photo with it.
I didn't quite enjoy the atv (all terrain vehicle) ride in the jungle as I was a lousy driver. Also, because the ride was so bumpy and I was wearing short shorts, I kept getting bruised on my inner thighs. I had to wear their shoes too and they weren't the correct size so I was bruised and blistered further. I emerged with bruises and bites (sandflies, ants and some huge green insect) all over my legs. I've got ugly legs now.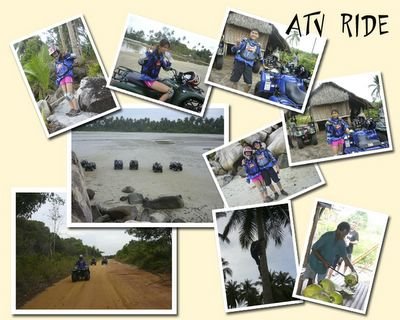 It was quite cool to see locals in the jungle. Haha… I sound like some ignorant mass tourist but I really hadn't thought of locals living around the vicinity of the resort. One of the atv guy actually climbed a coconut tree to pluck a coconut for each of us, while one of the locals sliced the top with a parang. That was the freshest coconut juice I've ever drunk… straight from the tree. The local kids were very adorable too. When I was riding, I saw some kids a distance ahead and was so afraid of knocking into them. Instead, when they saw us, they ran off to the side of the track and cheered for us, macham cheering by a race course. So cute!
I didn't get to see my colleagues at Nirwana. Before the trip, we made an impromptu plan to meet at the night bazaar but we didn't manage to catch each other as those spoilsports were afraid of venturing out of their resort. Also, the whole lot of them wanted to watch "da chang jing" ("Jewel in the Palace" huh? I dunno, I don't ride on the Korean waves.) So maddening right? But nevermind la, we all enjoyed ourselves and that's all that matters. =)
Anyway here are more photos…
This was what we became at the end of our stay in Bintan.
I love my tan now. I want to be even tanner!