Today was
HECTIC
! In CAPZ and in
BOLD
.
We didn't even have to time to eat even though we were all sooooo hungry.
At last, hs offered to buy lunch and even set them up so neatly in her room for all of us so we can tuck in quickly and get back to work.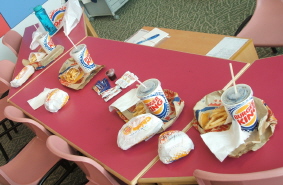 So sweet!!! I would never have thought of setting the table like that for my colleagues if I were to da bao food for them.
The gal behind the food (no pun intended).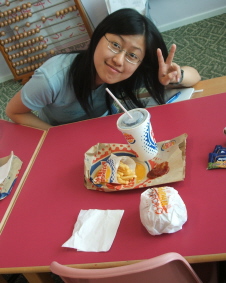 Lian has been sending me many interesting and funny links for ads on MSN. Even as I'm typing this, she is still sending. That ad addict! But it's a good way to unwind after the stressful day.
I lurve this!!! This is dedicated to my fellow colleagues. All of us had a very BUSY Wednesday today. Here's something for all of you to laugh. Don't be so stressed up. Also, check this out if you are a sucker for Japanese chio bus (pretty gals).
http://www.ad-awards.com/inc/video.swf?id=116
And international award winning ads…
Of which, this
Volkswagen
one is good. As in funny-good.
This
hp
one is WOAH! I cant even find an adjective to describe it. Way smooth! You all should watch this.
Shaking hands spreads more germs than kissing
. This gives one an excuse to kiss that cute guy or gal when you introduce yourself.
I love
adidas
!
And in case, you need more ads to cheer you up, this is the
homepage
.
I haven't checked out the rest of them yet.
Still feeling a bit stressed about tomorrow. Have to go to work much earlier to prepare myself.